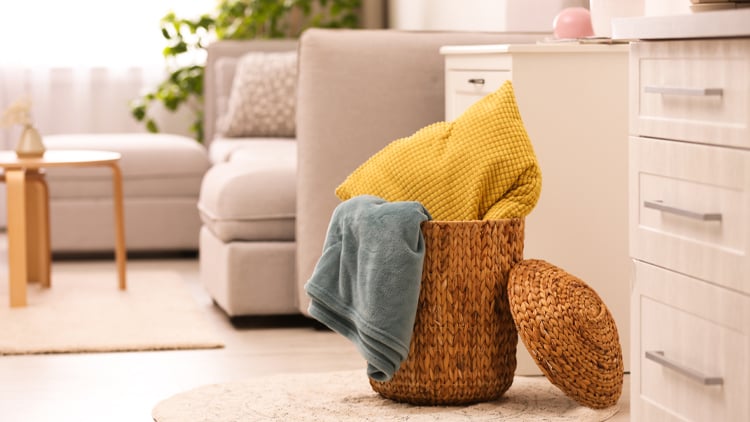 You've sifted, donated, packed, and are ready to move. It's time to celebrate: You've made it through the most difficult part of downsizing.
As you prepare to live in your new home, you'll obviously still need to store items. But where? A smaller living space can present challenges. Try these creative tips for making the most of your new abode.
Storage Tips for Smaller Kitchens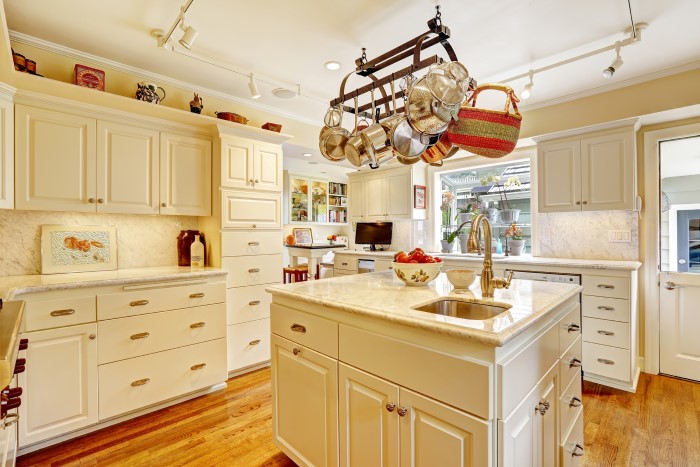 If you do most of your cooking at home, or if you have a passion for baking, the kitchen may be one of the most-used spaces in your home. It needs to be both functional - enabling easy preparation and storage - and beautiful.
Try these tips for organizing a smaller space:
Use tiered, collapsible shelving inside larger shelves to break up the space and create more storage surfaces.
For deep corner cabinets, use rotating lazy susan caddies to maximize the space and make it easier to reach all items.
Rolling carts can double as portable islands, bars, and shelving units. Get more ideas for using rolling carts throughout your home here.
A hanging pot rack can free up cabinet space and make a bold statement in your kitchen. Hang it where it's easily accessible. Some models can hang from a wall and some have a shelf for books on top, so find one that suits you.
Hooks and pegs installed on the end of a cabinet provide a spot for aprons, tea towels, pots and pans, and more.
An over-the-sink shelf is a narrow ledge, sometimes with hooks and other storage options, that you can install right over your sink. Search for one online or tell your cabinetmaker what you'd like.
Storage Tips for Small Bedrooms and Bathrooms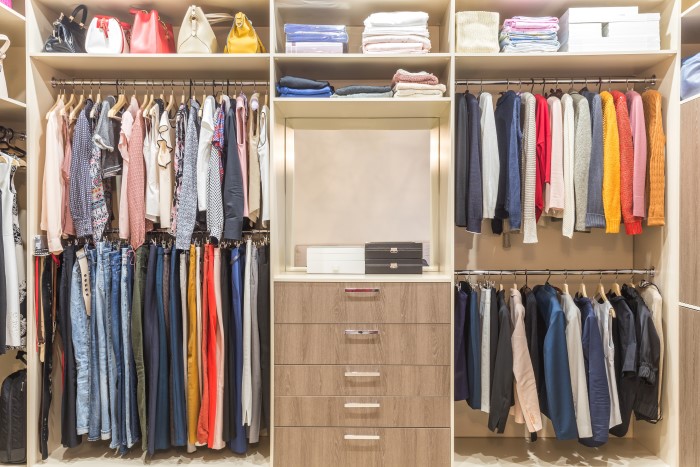 Clothing, accessories, and odds and ends often make their way to the bedroom. And you'll need space for toiletries and linens in the bathroom. Find clever storage solutions for these smaller spaces here:
Make the most of the space beneath your bed. Low-profile tubs and containers, as well as vacuum-sealable bags, can all keep out-of-season clothing and extra linens protected.
If your closet doesn't offer the storage you'd like, look for ways to modify it. Install additional rods or shelves to maximize the space. Don't forget about the back of the door - hanging organizers can keep shoes, scarves, bathrobes, and more organized.
In the bathroom - especially if you now have fewer bathrooms than in your old home - shelving can be key. Floating shelves or stand-alone units can make for a functional and clutter-free space.
If you don't want items in plain view but don't have additional closet space, look for attractive boxes or bins with lids to keep them handy but hidden.
Don't forget about storage space beneath your sink, if it's set in a cabinet. Bins, collapsible shelves, and tension rods can all be useful here.
A ladder-style towel rack provides a fun mid-century-inspired touch to a bathroom and takes up very little floor space.
---
You may also enjoy: The complete guide to downsizing for seniors >>>
---
More Storage Tips for Small Homes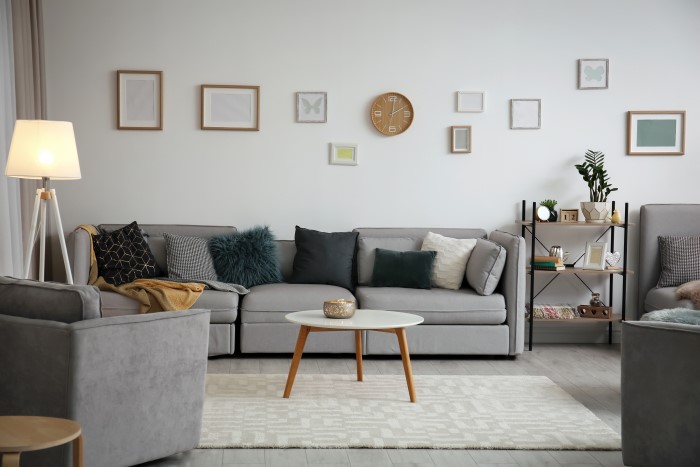 The rest of your new home can provide a plethora of storage options if you choose the right furniture and accessories. From the living room to the hallway, keep your possessions out of sight but close at hand with these tips:
The right hallway bench with storage can do triple-duty near an entrance or laundry area. It can be a place to sit as you put on or take off shoes; an area to hang coats, hats, and purses; and a storage space.
Look for furniture that's attractive as well as functional. For example, an entertainment center might have shelves and cabinets in which to store items. And an ottoman or end table could have hidden storage beneath them.
Designate a single space - perhaps a tray, basket, or hanging organizer - for phones, keys, chargers, and spare change. Keeping everything in one spot reduces clutter and makes it easier to find what you need.
Don't forget about vertical space. Where can you install floating shelves or racks to keep items organized?
Make your bookshelves do double-duty with cube storage and boxes. Display your favorite books as well as other knick-knacks and family photos.
Keep frequently-worn shoes organized with a bin or basket near the door or in a closet.
Are You Downsizing? Explore Our Floor Plans
Whether you want to simplify your life by downsizing or just need a place to touch down between travel trips, a cottage or apartment home option from Presbyterian Homes may be right for you! With three upscale retirement community locations on Chicago's North Shore, you're sure to find the perfect fit.
Explore costs, amenities, features, and more at Presbyterian Homes.