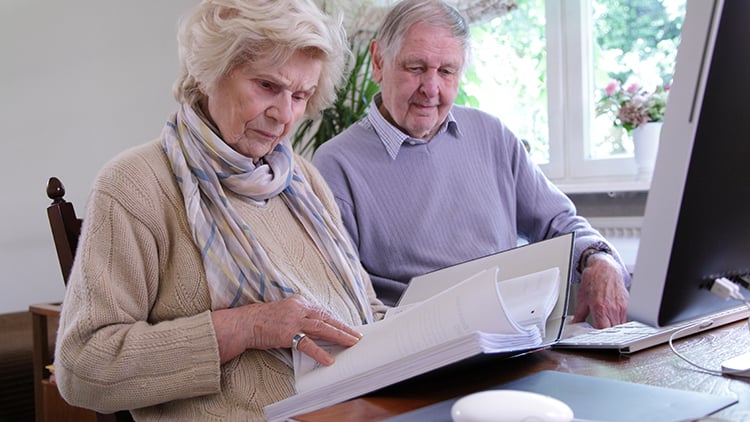 Life's emergency situations require advance preparation and planning. Being prepared will help you avoid the stress, expense, and inconvenience of looking for critical documents under emergency situations.
The first step is to organize your papers:
• Do you have an appropriate place for each document?
• Have you told anyone else where you keep your vital information?
• Have you shared your wishes in the event you are unable to speak for yourself?
Take Action Now to Avoid Financial Problems Later
Use the list of personal documents below to create a log. For your personal documents log, it's a good idea to locate each document, then make a list of them and their locations (as well as any relevant information) for family members or friends to use in an emergency situation.
Before getting started, remember the following tips:
Always store original documents in a safe location that is accessible day and night, seven days a week.

Make sure key family members and advisors have copies of this information and related documents.

Review your Personal Documents Log every three to six months for possible revisions and updates.
Personal Documents Log
When logging information for the following list, keep in mind any account numbers, names associated with the account, or any important information someone would need to know regarding your possessions or accounts.
PIN Numbers/Access Codes

Computer & Internet Usage

Personal Bank Accounts

Automatic Bill Paying

Paid Liens Against Property

Loans

Business Bank Account

Credit Union

Company Pension

Retirement Account

Savings Certificate

Savings Bond

Stock Certificate

Safe-Deposit Box

Will, Trust, and Living Will

Power of Attorney for Property

Power of Attorney for Health Care

Letters of Instruction

Funeral Instructions/Memorial Services

Social Security

Military Discharge Papers

Income Tax Filings

Passport

Driver's License

Credit Cards/Charge Accounts

Health Care Insurance

Long-Term Care Insurance

Dental Records

Life Insurance

Disability Insurance

Homeowner's Insurance

Real Estate Investment Insurance

Business Insurance

Liability Insurance

Vehicle Insurance

Vehicle

Valuables Insurance

Real Estate Ownership Documents

Cemetery Plot

Items in Storage

Items Borrowed

Medical History/Birth Record

Marriage License/Divorce Decree

Employment History

Father's History

Mother's History

Dependents

Grown Children-- No Longer Dependents
Peace of Mind at Presbyterian Homes
Planning for the future? At Presbyterian Homes, we provide peace of mind to all residents by offering a full continuum of care and helping them to plan for their future. When you become a member of a Presbyterian Homes community, you'll gain access to independent and assisted living options, rehabilitation services, memory support, skilled nursing, and so much more. That way, you can relax and enjoy your life without worrying about future care. Explore our communities and find out which best fits your lifestyle.