A custom kitchen at Lake Forest Place, a retirement community near the Lake Michigan shoreline in Chicago.
The community is friendly. The campus is beautiful. And the kitchen is to die for.
Granite countertop? Tiled backsplash? You choose. When you move to a new home at Lake Forest Place, we want it to feel luxurious, stylish, and comfortable to you. That means it must be customized exactly as you'd like.
Style and comfort are unique to each one of us. Read on to learn more about our available apartment and cottage homes and your customization options.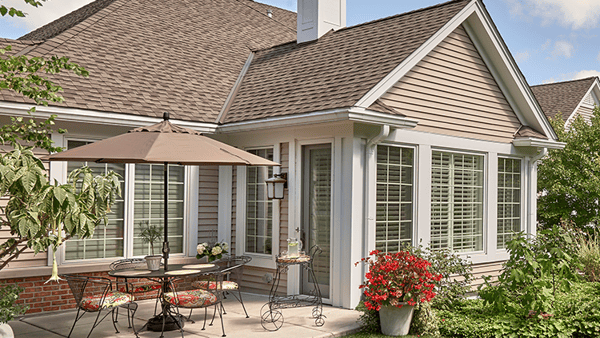 A Lake Forest Place Cottage Home.
Lake Forest Place Homes for Independent Living
Located on 60 beautifully-wooded acres just minutes from the Lake Michigan shoreline, Lake Forest Place offers 275+ independent living cottage homes and apartments for older adults.
Each cottage and apartment home offers its own appeal and unique floor plan – some as large as 2,392 square feet. Whichever floor plan you choose, you're free to decorate and furnish your new home to reflect your own personal style.
The homes were each built to be aesthetically pleasing while also being comfortable and safe for older adults. This means features such as walk-in showers, minimal steps, slip-resistant flooring, extra lighting, and plenty of storage.
Home Customization Options at Lake Forest Place
Here's how the customization process works. Once you've chosen your cottage home or apartment floorplan, you'll meet with our Facilities Manager to go over all of your design and upgrade options.
After you make decisions on the layout and interior design, we'll then finalize plans for your renovation so we create the perfect atmosphere just for you.
Some of your options will include:
Granite countertops
Tile backsplashes
Recessed can lights
Hardwood floors or carpet
Window treatments
A finished or unfinished basement
Closet systems
Wall changes to open up an area or create more privacy
Storage options
Paint colors
And lots more!
Get an inside look at your customization options by downloading a copy of the Lake Forest Place Home Customization Guide.
Tips for Moving as an Older Adult
Along with choosing the features you want in your new home, you will also be packing up your current home. Here are a few tips that may help as you plan ahead:
Now is the time to downsize - before you actually start moving. Start creating piles to keep, sell, and donate. Think about it this way: what would you grab if your house was on fire? Stay focused on what you would want to bring with you no matter where you go.
Take into consideration your new lifestyle. Are you moving to a maintenance-free home? This means you can sell the mower and donate the step-ladder. Are you planning to travel more? Keep the luggage.
Choose your new home ahead of time and note the square footage and storage space. If you already know the amount of space you have, this will help immensely with downsizing.
Contact a Professional Move Manager. Through this organization, you can find a professional in your area who has helped thousands of older adults downsize painlessly.
Contact a Real Estate Relocation Professional. Real estate relocation professionals can help manage all aspects of your move, from finding the right real estate agent to hiring a moving company. Four Chicago-area services we recommend are MySolutions, Moving Station, Move Me Managers, and Dwelling Spaces.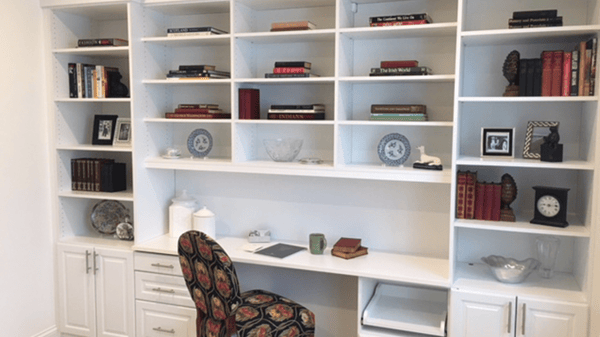 Built-in storage space and desk at a Lake Forest Place independent living home.
See Lake Forest Place for Yourself
Are you ready to learn more? Take an inside look at our cottage homes and apartments here, where you can watch videos inside the homes and find more floorplans.
We also invite you on a personal tour of Lake Forest Place. Simply fill out the form and we will schedule a time to suit your needs. It's the best way to experience why life is better at Lake Forest Place!