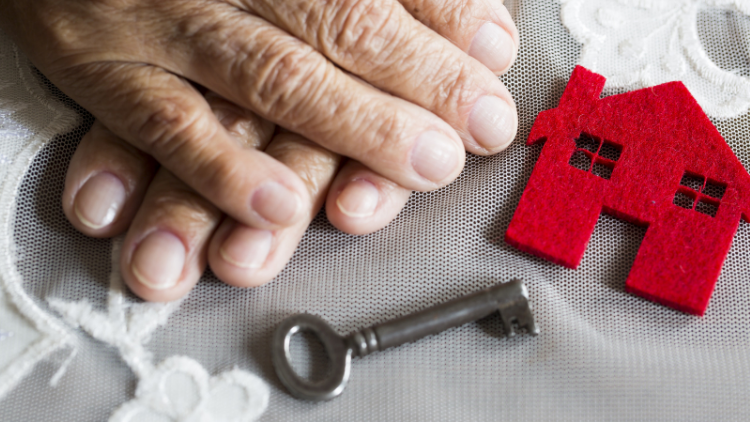 When Sue's mother, resident Joan M., first told her she was thinking about moving to a retirement living community, Sue was reluctant. In fact, at first, she even discouraged it.
"I was worried about her adjusting to a new environment. I thought it would be hard," Sue said.
A mere two months after the move to Lake Forest Place, though, Sue reported that her mother was settled and happy, and said that she herself could not think of anything that didn't go smoothly during the move to the Lake Forest retirement living community.
Here's how Sue helped her mother manage the transition to a retirement living community, with help from the staff at Lake Forest Place.
Deciding to Move to a Retirement Community
Sue's mother was living in a two-story house in the Chicago area prior to her move. Joan's husband had passed away and she was living alone, with some outside hired help.
She was beginning to feel like the maintenance of the house was becoming increasingly difficult.
Joan, described by her daughter as an easy-going, friendly person, was also feeling like her social life had become more limited. Joan liked the idea of community-style living, where she could enjoy the many things offered right outside her front door and the opportunities to meet new people.
The challenges of home ownership combined with the desire to forge new friendships led Joan to consider a move to a retirement living community.
"I actually discouraged her from leaving the house. I said 'you don't have to leave the house, you have Brenda [a visiting home aide] there to help,'" Sue said.
When Joan explained her reasons for moving, though, Sue changed her mind.
"Once she said that's what she wanted to do, I said 'okay, we're going to figure this out together,'" she said.
___________________
How to Help Your Parent Find the Perfect Senior Living Community
___________________
Moving to a Senior Living Community: How to Ease the Transition
Although they considered other communities, the mother-daughter duo soon settled on Lake Forest Place. Joan wanted to stay in the area close to her current doctors so she could be driven to appointments. With a Lake Forest, Illinois location, Joan was in a good position to remain close to everything important to her.
They were also familiar with the community due to Joan's husband (Sue's father) receiving nursing care at the Lake Forest Place Balmoral Care Center, where they felt he received quality care. From her husband's time there, Joan remained taken with the idea of a faith-based retirement community.
Sue, though, was still worried about the moving process. It was a big undertaking for her and her mother, and she worried about the stress and strain.
However, with the help of Lake Forest Place staff and a senior move manager, the move went seamlessly. Here's what Sue remembers of the moving process—one that is fairly similar for all residents moving to Lake Forest Place for independent living:
Prior to move-in, Sue and Joan met with staff to pick out everything for the new apartment home—the colors, the cabinets, the granite, and so on. "The process was very easy," Sue said. "They had a lot of options to choose from but not to the point that it was overwhelming."
Joan was able to customize her home to her exact specifications. "My mom had a specific refrigerator brand she liked and they said 'no problem, we'll get that for you,'" Sue said. "She had these wooden blinds in her den at home and she wanted the new den to look the same, and they were able to find that."
Lake Forest Place implemented Joan's customization choices prior to her move-in day. "When she moved in, it was gorgeous. The cabinetry, the flooring, the paint job, the fresh new carpet," Sue said.
With the help of an area senior relocation company, Moving Station, Joan's belongings were packed up and moved to the new home. "The moving crew did a great job!" Sue said. "By the end of the move-in day, there was not a box in sight. Mom was so happy. She kept saying 'everything looks better here than it did at home!'"
Lake Forest Place staff members were on hand during the move-in day to make the process go smoothly. "One staff member, Mary Ann, even stayed late to help with her parking spot. Mary Ann hopped in the car with my mom and they found a parking spot that was just right for my mom"
A variety of staff members came and introduced themselves, including the head of housekeeping, the head of maintenance, a nurse, and a social worker. They explained their roles and asked how they could help Joan.
___________________
Make It Your Own: Customization Options at Lake Forest Place
___________________
The Emotional Side of Moving
Of course, even with a seamless moving experience, it's still an emotional process.
"When she first arrived, it was hard. I thought, 'oh, this is going to take a while for her to feel comfortable,'" Sue said. "There was an adjustment period initially because she had been in her house for 65 plus years. So she was sad about leaving home."
This is a common feeling for seniors who downsize, as Dr. David Mischoulon, director of the Depression Clinical and Research Program at Massachusetts General Hospital, says.
"Letting go of your home and your belongings can feel like you're letting go of a particular part of your life. There's a realization that you can't get the past back," he says.
Dr. Mischoulon has some tips for coping, including:
Understand that you're going through a process of mourning and that feelings of sadness are normal
Stay connected with family and friends
Engage with your new community
Engaging with the new community is certainly something Joan has done. She goes to exercise programs 3-4 times a week, goes to parties and social events, and attends lectures and talks.
"That was actually one thing that led her to want to move in. When she was there with my dad, they would go to the programs and she found them stimulating and interesting," Sue said. "At Lake Forest Place, they have many great programs that cover a wide variety of topics."
Getting involved helped. Just two months after the move, Sue reports that her mother was fully engaged and settled in.
"I am very happy with it, despite my initial reluctance," Sue said.
___________________
It Was Time: My Parent's Move to a Senior Living Community
___________________
Peace of Mind for Mother and Daughter
One of the best parts of her mother living at Lake Forest Place, Sue says, is the peace of mind it brings.
"I was gone last week to visit my daughter in college. It was nice because I knew Mom had things to do and she was watched over. I didn't have to worry about her while I was out of town," she said.
For more information on Lake Forest Place, subscribe to our blog or download our brochure.