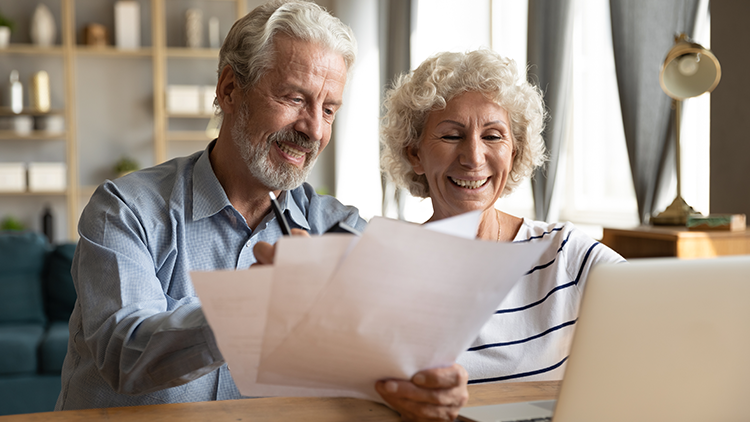 The cost of the retirement community you choose will vary depending on the type of care and amenities you need, your location, and your personal preferences. Choosing a retirement community for yourself or a loved one is a big decision. That's why it's so important to be informed about your options.
As you consider the financial aspects of your decision, here is some information about the overall costs of retirement communities and the amenities and care levels they may offer.
Types of Retirement Communities
There are three general types of living options offered at retirement communities or "senior living communities." These are independent living, assisted living, and skilled nursing care.
Senior living campuses that offer all three types of residences on the same site, such as our Presbyterian Homes' communities, are referred to as "continuing care retirement communities" or CCRCs. Choosing a CCRC means that your costs are paid upfront and your level of care is secured for the future. These are a great option for those who do not want to move if their level of care changes.
Here is a quick overview of the main living options you will find:
Independent living

. This is a living accommodation for active or independent older adults.You will likely find a wide range of floor plans from villa homes to apartments.

Assisted living. This is for those who need a little extra help with the everyday tasks associated with daily living. Oftentimes, these are apartments. How much assistance is provided is tailored to each person's need.
Skilled nursing: This is for an older adult who needs 24/7 care by a skilled professional. Living options are typically private or semi-private rooms.
CCRC, also called Life Plan Communities: This is a community that offers the full spectrum of living options and care - independent living, assisted living, skilled nursing care and possibly memory care and rehabilitation all within one campus. Older adults typically move in while they are active and healthy, living in an independent living accommodation, knowing additional care levels are there when or if ever needed.
Costs of CCRCs vs. Other Retirement Communities in Illinois
The costs of CCRCs and any other type of retirement community will vary, but the biggest difference is that CCRCs often require an entrance fee and monthly fee, while other retirement communities do not usually require the entrance fee.
CCRC
Entrance Fee
: According to
AARP
, nearly two-thirds of CCRCs - also called Life Plan Communities - require entrance fees. This is the fee paid when first entering a new community and helps cover services used now and any care needed into the future.
SeniorCaring.com reports entrance fees in Illinois range anywhere from $30,000 up to $1 million depending on the contract and location. The national average cost of an entrance fee is $248,000.
Monthly Fee: The monthly fee paid at a CCRC is generally inclusive of housing, utilities, some meals, social programs, transportation services, and other amenities. Be sure to ask which amenities are included in the monthly fees. SeniorCaring.com finds this fee ranges from $300 to $4,500+ in Illinois, depending on which services are utilized.
Independent Living
If you choose an independent living option outside of a CCRC, the median cost in Illinois ranges between $576 and $3,575 per month, according to data published by Medicare. This often includes your living accommodation and may or may not include services offered within the community. It also does not secure any care into the future.
Assisted Living
When not living at a CCRC, assisted living is often paid on a month-to-month rental agreement based on the assistance needed. According to Genworth Financial, the average cost of an assisted living community in Illinois in 2019 was $4,170 per month. This typically includes housing, assistance with daily living tasks, some meals, utilities, and on-site programs. Ask your community contact which services and amenities are included in your monthly fee.
Skilled Nursing Care
Skilled nursing care centers provide 24/7 health and medical services, rehabilitation services, and assistance with eating, bathing, dressing, toileting, and ambulation. Skilled nursing centers generally charge daily or monthly rates. These rates are usually all-inclusive, which means meals, housekeeping, rehab care, and 24/7 medical. According to Genworth Financial, the average cost of a semi-private room at a skilled nursing center in Illinois in 2019 was $7,513 per month.
Options at Presbyterian Homes in Chicago
The Presbyterian Homes communities located in Chicago's vibrant suburbs – Lake Forest, Evanston and Arlington Heights – are each a Life Plan Community (also called CCRCs). This continuum of care means you can enjoy life in maintenance-free independent living homes or apartments in any one of our communities, and if your health care needs change in the future, the community is equipped to meet those needs all on one campus.
Find out more about your retirement living choices at Presbyterian Homes. Download our Cost Guide below to help you determine the right community for your financial situation.