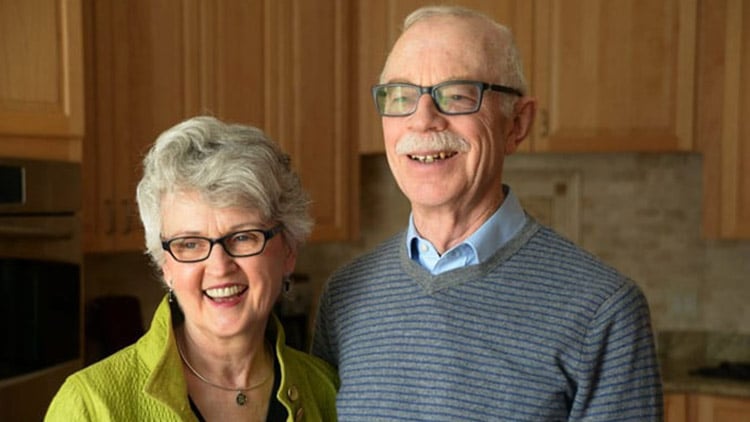 Why wait to move to a senior living community?
Your parent may have many answers to this question. They're happy where they are, they don't want the hassle of the downsizing, they'll move in a few years when they need to—the list goes on.
That's not to say these aren't rational reasons for delaying the move. Your parent might be perfectly content and suited for their current home. Yet you wonder—when is the right time for Mom and Dad to make the move?
When they show the signs below, it may just be the perfect time to make the move.
When to Move to Senior Living
Sign 1: Homeownership is becoming a headache.
Your parents are still active and able to live independently. But does that mean they should remain in their current home? Not necessarily.
If the upkeep of their current home is becoming too much of a nuisance, perhaps not. If they find themselves more and more frequently having to hire outside help to help with repairs and maintenance, calling on your or your siblings for help, or arranging for someone to look after the house while they travel, a senior living community might make things more convenient, thus giving them more time to do the things they love.
Independent senior living homes in a Life Plan Community (a type of retirement living community also known as a continuing care retirement community or CCRC) offer the same freedom as your parents' current home, without the hassles of homeownership.
Life Plan Communities offer home and grounds maintenance to residents. Some may even offer housekeeping services for added convenience. Everything is taken care of, from an air conditioner that needs to be repaired to a snowy driveway that needs to be shoveled to a lightbulb that needs to be replaced.
Travel is also made easier. If your parents decide to take a vacation, they don't need to worry about their home at the Life Plan Community while they're away.
Sign 2: Future budgets have a lot of question marks.
Planning for the future can be difficult, especially as we age. Healthcare costs, property taxes, and home maintenance (as we touched on above) can be wildcards when it comes to future planning.
The benefit of a Life Plan Community is that maintenance is included in the monthly fees and those monthly fees will be outlined in your parents' contract. This allows them to plan for their financial future with more confidence, as they won't have to plan for unexpected costs related to homeownership.
They may also enjoy more clarity when it comes to their future medical costs. Depending on the contract type they choose at a Life Plan Community, they can anticipate the expected costs for any future care they need. For example, if they choose the LifeCare contact option, it will provide for predictable future health care expenses.
__________________________
Related: Presbyterian Homes Cost and Benefits Guide
__________________________
Sign 3: It's becoming a hassle to do the things they love.
A common observation among adult children of senior parents is that they no longer do the things they love—or it has become more difficult for them to do so. Perhaps Mom used to play bridge with her friends but they've since moved from the area. Maybe your father used to enjoy driving to the local coffee shop to discuss current events but no longer drives.
At a Life Plan Community, there are plentiful lifestyle options and social benefits that can enhance your parents' lifestyles. Comprehensive lifestyle and wellness programs offer options for lifelong learning, health classes, volunteering, and more. Social events give residents the chance to mingle and form new friendships. Flexible dining options allow for thoughtful conversations over the dinner table or morning coffee.
On-site amenities, such as communal areas, outdoor spaces, and wellness centers meet residents' needs right on campus. People are free to come and go as they please, but there are plenty of things to keep them busy within the community.
Sign 4: They're in good health and active.
Many people assume that good health and an active lifestyle are indicators that they are not quite ready for a senior living community. This is not the case—active retirement living communities are great fits for independent older adults. In fact, the sooner your parent moves in, the sooner they can enjoy all the services and amenities.
Additionally, the move is easier when your senior parent is in good health. The move itself can be physically taxing and the downsizing process that often needs to be completed before the move can be a challenge. The healthier your parents are, the easier that process is likely to be—both on them and on you.
Another thing to consider is that in order to move into independent living, most communities ask that residents meet certain health requirements.
"And here's a good example of where 'waiting' can backfire. Generally, CCRCs require prospective residents to be in good health and able to live independently. ... [Some] retirees I have talked with through the years told me they waited too long to [move]; their health had gone downhill, and their housing options (at least as far as CCRCs were concerned) had dried up," writes Glenn Ruffenach for the Wall Street Journal.
Ruffenach points out that CCRCs (Life Plan Communities) aren't for everyone. However, if you decide that it's right for you, it's best not to delay.
"I would err on the side of acting sooner rather than later. And that's pretty good advice for retirement in general," he says.
Making the Decision
Ultimately, the decision to move is up to your parent. But if you see the signs above, it may be time to discuss their future living options with them.