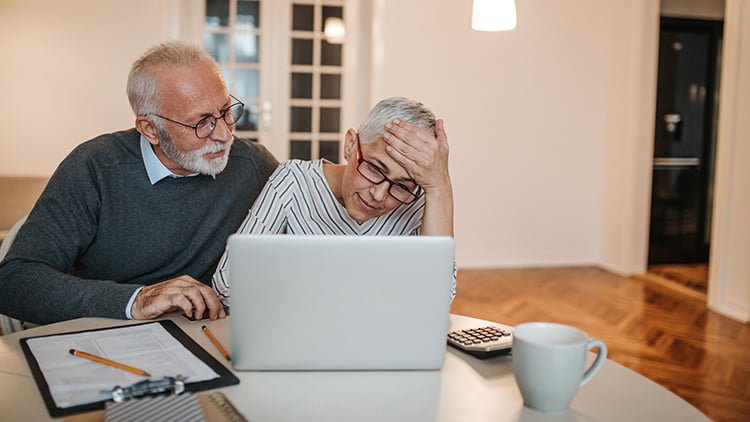 If you're like many older adults, you might balk at the idea of leaving your home to move to an independent or assisted living community. You might say things like:
"Living at home as a senior is so much more convenient and inexpensive."

"My health is perfectly fine. I don't need to move."

"I've lived in this home so long, I couldn't imagine moving somewhere else."
While all these feelings are completely normal, have you considered all the facts — and hidden costs — that go along with aging in place? Make an informed plan for your future with help from the following suggestions.
Consider the Costs of Aging in Place
If you own your own home, aging in place may seem like a "free" option — you aren't paying for room and board, after all.
However, as we age, it's often necessary to look into adjustments that make daily life easier. Take a quick look at some common estimated costs you may not have expected:
Monthly home security fees: $40 & up

Smart home technology installation: $99 to $1,500

Grab bars (2 installed): $250

Door widening: $800 to $1,200

Ramps and/or lifts: $2,500 to $20,000

Stair glide: $3,000 to $12,000

Bathroom renovations: $3,500 to $35,000

Ceiling lift: $5,000 to $12,000

Accessible master suite addition: $3,500 - $100,000
Other Questions to Ask About Aging in Place
Keep in mind that these costs don't include what you may pay for a home health aide (upward of $125 an hour) and housekeeper, transportation to appointments, and more.
You'll also need to ask yourself the following questions:
How long will these home modifications allow you to remain safely in your current house?

Is this a viable short-term answer, or do you expect this plan to work for years to come?

If you expect a family member to care for you, can they (and their spouse or children) handle the physical, financial, and emotional consequences of caregiving?

How financially feasible is the cost of paying for in-home care when compared with moving to a senior living community?
Related: Eat these foods to promote bone health >>
Caring for Your Health as You Age
If you decide to stay at home, what will you do if you or your spouse become ill or need more consistent medical attention?
This question isn't meant to be uncomfortable, but to spark a long-term planning mindset. Staying in your home or turning your care over to a family member might seem like the easier solution, but the reality is, you might not be able to stay in those situations if your health worsens.
The key benefit of moving to an independent or assisted living community is that you'll be making your own choice now, on your terms — not later, when you or a family member might need to act in a crisis.
What Can Independent and Assisted Living Offer Me?
One alternative to aging in place is a move to an independent or assisted living community. You might be unsure about the differences between independent and assisted living. And oftentimes, they're offered on the same campus. Here's what you should know:
Independent living is for seniors who don't need help with daily activities, medications, or health care needs, but who want to enjoy maintenance-free living and amenities geared toward them.

Assisted living is for seniors who need a little help with some of the activities of daily living, like preparing meals or getting dressed, but who are otherwise independent. They're free to plan their own days and get the help they need when they need it.
Increasingly, many independent and assisted living communities offer a continuing care model. From the time you move in, you can rest assured you can remain at the community and have all your health needs cared for, no matter how they progress.
In addition to a continuum of care and a host of convenient amenities, you'll also find increased opportunities for socialization. This is one of the many wellness benefits of a senior living community. There are plenty of opportunities to socialize and enjoy the company of fellow residents, which can help seniors improve their mental health by avoiding the negative effects of loneliness.
Continuing Care at Presbyterian Homes Communities
Presbyterian Homes has been a premier name in senior living in the Chicago area for more than 100 years. Our continuing care community model offers upscale independent and assisted living, with memory care, rehabilitation, and skilled nursing available as you need it.
Get your free guide to costs at each of our four North Shore communities to learn more about Presbyterian Homes.