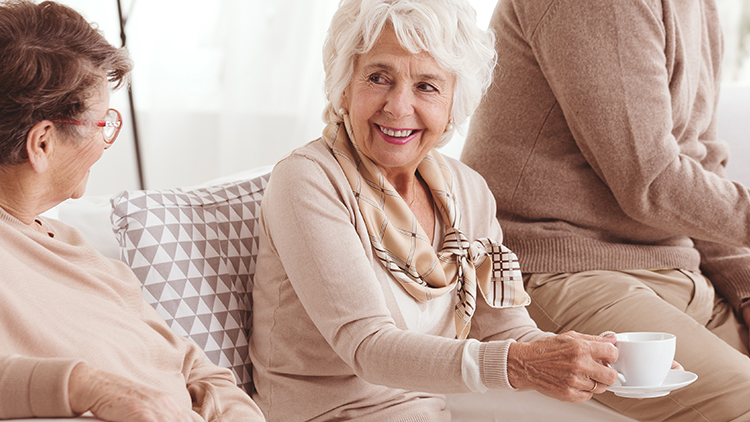 Moving to a Life Plan Community (also known as a continuing care retirement community or CCRC) represents a significant financial investment. Not only that, it can be a big lifestyle change.
It's understandable, then, that people want to make sure that their community of choice is a quality, trustworthy organization before committing. That's where accreditations come in.
Understanding Life Plan Community Accreditations and Ratings
When you look for a new accountant, it's easy to tell if they're certified and trustworthy: You simply look for the "CPA" behind their name.
With those three letters, you know that they meet the rigorous requirements to practice accounting. It's a standard, nationwide system to which all accountants in good standing must adhere. It takes all the guesswork out of determining who can be trusted with your finances, and who cannot.
When it comes to Life Plan Community (CCRC) accreditations, it can be a little trickier. That's because as of 2019, there still is not a unified system or governing body to monitor and rate Life Plan Communities.
"[T]here are few standards or regulatory safeguards that a prospective resident can look to as assurance that a particular CCRC is all that the marketing staff presents it to be," said Jack Cumming, the director of research for the National Continuing Care Residents' Association.
Of course, that doesn't mean that Life Plan Communities are not held accountable to meet certain standards. After all, they do provide healthcare and dining services so there is government oversight to ensure that residents are receiving the proper care and that the dining facilities are in tip-top shape. It simply means that it's best to look in a few places for accreditations and ratings to get a complete picture of the quality of a Life Plan Community before you make your final choice.
_____________________
What Is a Life Plan Community?
_____________________
Life Plan Community (CCRC) Accreditations
The first thing you'll want to check is whether or not the community is CARF-accredited. "CARF" stands for Commission on Accreditation of Rehabilitation Facilities. It's a nationwide accreditor of Life Plan Communities or CCRCs.
To become accredited, a community must first complete an internal examination of its program, then undergo an on-site survey conducted by CARF during which it must demonstrate that it conforms to rigorous standards. A community must continually make improvements to remain accredited.
You may wonder why we said above that there's no unified system to monitor Life Plan Communities across the nation when CARF accredits Life Plan Communities nationwide. That's because becoming CARF-accredited is voluntary.
"When a community is 'CARF-accredited,' it means they have passed an in-depth review of their services and quality," Brad Breeding, founder of MyLifeSite, explains. "Also, while CARF is independent and a non-profit organization, accreditation is voluntary, and providers pay for the accreditation review."
If the Life Plan Community you're looking at is not CARF-accredited, does that mean that it's subpar? Not at all. Only a select few communities apply for and meet the requirements to become CARF-accredited. Communities that aren't CARF-accredited aren't necessarily lacking. CARF-accreditation is simply a good place to start because it shows which communities have a sterling reputation.
You can find which communities are CARF-accredited here (yes, all three Presbyterian Homes Life Plan Communities are CARF-accredited).
_____________________
How Do Life Plan Communities Work? Fees and Contract Options Explained
_____________________
Life Plan Community (CCRC) Ratings
If you've been looking at Life Plan Communities, you're likely already familiar with the structure. You know that this senior living community type includes independent living, assisted living, and skilled nursing, and possibly rehabilitation and memory support.
CARF is the only organization that looks at a Life Plan Community as a whole and accredits it accordingly. However, there are other organizations that assess and rank the different parts of the whole.
This is why you can look at more than just CARF to see if a community is high-quality. You can also look at the ratings of the different levels of care found at the community.
State Health Department
For assisted living, you'll want to check to make sure that the community is licensed with the state's department of health. If the community is licensed, you can trust that they meet the necessary requirements to provide assisted living services.
Center for Medicare Services
For the skilled nursing portion of Life Plan Community living, the Center for Medicare Services rates facilities. Keep in mind, though, that it only ranks skilled nursing communities that are Medicare and/or Medicaid-certified. It does not apply to private-pay communities. It also does not speak to the quality of the community as a whole, only the skilled nursing portion.
For example, Westminster Place offers specialized skilled nursing care in the McGaw Care Center on campus. When you see Westminster Place ranked in the Medicare Nursing Comparison tool, that ranking reflects the McGaw Care Center specifically.
_____________________
Everything Seniors Need to Know About Independent Living
_____________________
Analyzing Life Plan Communities to Find the Best One
It may seem simple, but there's another ranking system you can use when evaluating senior living communities. That system? Social proof.
Perform a quick Google search of the community you have in mind and see what kinds of Google reviews it has in the sidebar. Look on the community's Facebook page and see what kind of testimonials (or complaints) people have left on the page. Although there may be a few reviews that you should take with a grain of salt (after all, not everyone tells the truth on the internet), you'll be able to get a feel for what types of experiences people have had at the community.
Moving to a Life Plan Community is a major decision and there are many more things to take into account before making your final choice, including financial stability, services and amenities, lifestyle, location, contract options, and fees. The accreditations above, though, should give you a good place to start.
Presbyterian Homes Accreditations and Ratings
Presbyterian Homes earned credit ratings of A- and BBB+ from FITCH and Standard & Poor's. Out of approximately 2,000 senior living communities like Presbyterian Homes in the U.S., just 49 of those have an "A" category FITCH Rating.
In addition, we're also proud to hold the exclusive Commission on Accreditation of Rehabilitation Facilities (CARF) seal of excellence, which we've received consistently since 1990. Presbyterian Homes is one of only seven senior living organizations in Illinois and 300 of 2,000 nationwide to earn the CARF seal of excellence.
Learn more about our three Chicago area Life Plan Communities here.