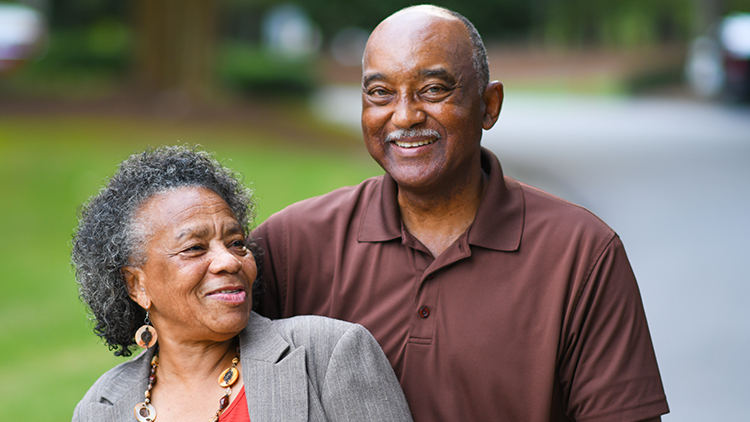 Wondering what the difference is between independent living and assisted living? Below, we tackle some of the most frequently asked questions about each option.
What Is Independent Living for Seniors?
Independent living is a term used to describe housing and a set of services offered in a senior living community setting. Independent living is designed for seniors who are active and able to live on their own terms.
Independent living is very similar to living in your current home. You will still have your own private residence and are completely free to spend your days however you choose. The difference is that when you live in an independent living community, your home is designed for you to age comfortably in place and you have access to an array of community services and amenities.
How Does Independent Living Work?
In independent living, you live in your own residence, which may be a cottage home, townhouse, or apartment home. You'll also have access to services and amenities, which vary by community type. They'll likely include recreational services, maintenance, and dining options.
It's common for communities to ask that residents meet certain health requirements to ensure that they're able to live safely on their own. In other words, if you have a health condition that requires nursing care or need some assistance with daily activities, independent living would not be the best fit.
How Much Does Independent Living Cost?
There is not a simple answer to this question because the costs vary greatly depending on the community you choose. The cost will vary by location, services offered, contract type, and community type (which we'll discuss in greater detail below).
When it comes to monthly fees, the average monthly cost for a majority of independent living communities is $2,765. Naturally, communities that offer more comprehensive services will cost more, while communities that offer only the basics will cost less.
Entrance fees tend to vary greatly by community. Some independent living communities that only offer apartments for seniors with limited services (which are known as age-restricted or 55+ communities) may not require entrance fees. Another type of senior living community that offers independent living, a Life Plan Community, require entrance fees that range from approximately $107,277 on the low end to $427,054 on the high end. This is because they offer a continuum of healthcare services in addition to independent living.
______________________
Related: Everything Seniors Need to Know About Independent Living
______________________
What Is Assisted Living for Seniors?
Assisted living is for seniors who need some support with daily living activities. It helps residents maintain their independence with the help of professional staff members who provide care and services personalized to the individual.
How Does Assisted Living Work?
In assisted living, seniors live in a private residence within a senior living community. They receive assistance with activities of daily living, which you'll also hear referred to as "ADLs."
Activities of daily living include:
Dining
Bathing
Dressing
Toileting
Ambulation
In addition to assistance with activities of daily living, older adults in assisted living have access to services and amenities. Those typically include some type of dining program, housekeeping services, maintenance, and social events.
How Much Does Assisted Living Cost?
As with independent living, the costs of assisted living vary greatly depending on the community you choose. However, to give you an idea of what assisted living can cost, Genworth's Cost of Care Survey estimates that the average monthly cost of assisted living in the Chicago area is $4,938.
______________________
Related: The Hidden Costs of Aging in Place: What You Need to Know
______________________
Independent Living Communities, Assisted Living Communities, and Life Plan Communities: What's the Difference?
Sometimes it can be difficult to keep all the options for senior housing straight. In this article alone, we've referenced independent living communities, assisted living communities, 55+ communities, and Life Plan Communities—and that's not the end of the list.
To further complicate matters, there can be some overlap in terminology. For example, a 55+ community is considered an independent living community, and so is a Life Plan Community (also known as a Continuing Care Retirement Community). But a Life Plan Community also offers assisted living, even though it's not called an assisted living community.
Essentially, independent and assisted living can refer either to a level of care offered at a community or the community itself. To help clear things up, though, here is a quick overview of some of the main types of retirement living communities:
Senior Apartments. Senior apartments refer to independent living apartments that may be subsidized or "affordable." They do not typically offer many amenities beyond housing designed for seniors.
Life Plan Communities. A Life Plan Community is a senior living community type that offers tiered lifestyle and healthcare options all on one campus, including independent living, assisted living, and skilled nursing. It provides active lifestyle options to older adults through comprehensive services and amenities.
55+ Communities. Similar to senior apartment communities, 55+ communities offer housing options to older adults. They do include some lifestyle programming, but not the continuum of care you see in a Life Plan Community.
Independent Living Communities. Independent living typically refers to a standalone apartment building for adults who are able to live independently. As mentioned above, communities like Life Plan Communities incorporate independent living into the overall community structure.
Assisted Living Communities. Assisted Living communities offer help with activities of daily living. As with independent living, a community could offer assisted living only, or offer it as part of the larger continuum of care.
______________________
Related: What Is a Life Plan Community?
______________________
Which Is Right for Me—Independent Living or Assisted Living?
As you've explored your options, you might have begun to have an idea of whether independent living or assisted living is right for you. What it usually comes down to is whether or not you feel comfortable to live independently with no assistance.
If that's the case, independent living is likely the best fit for you. If you would prefer to have a little assistance but would otherwise like to live the independent lifestyle you're used to, assisted living could be beneficial. It may not have "independent" in the name, but assisted living offers you the same freedom. The only difference is that you'll have the necessary support.
Independent living is also a popular choice for seniors who travel frequently or have homes in warmer climates where they prefer to spend winters. Because an independent living community offers maintenance and housekeeping, residents can leave for an extended period of time without worrying about their home or arranging for someone to keep an eye on their residence.
If you have questions about your senior living options, you are always welcome to contact us. As a not-for-profit, faith-based family of communities, we have over 110 years of experience in the senior living industry that we're eager to share with you.